Now that snapper season is here and I've done some kms (kilos, 1.6 km per mile, maybe done around 3 total…)… I've owned this Hobie Compass I got from SLHobie for nearly 1 year and here's a rundown of the things I have fit it out with and what I want to change.
Orb at Night

Orb in Daylight
First things first. I always run a light. This is because I always fish first light and last light either to catch bait or when the bite really turns on. I just leave this on all day. The power consumption is low enough that I can run both my sounder and light and still get a full day with no issues.
To power all my gear I now use the lightweight 17.5AH FPV Lithium battery. I used to have this just in the cradle but I've had the cradle fall out because the battery doesn't take up the whole space like the lead-acid battery, so we now make the mount pictured. Wet batteries and fuses is a recipe for frustration.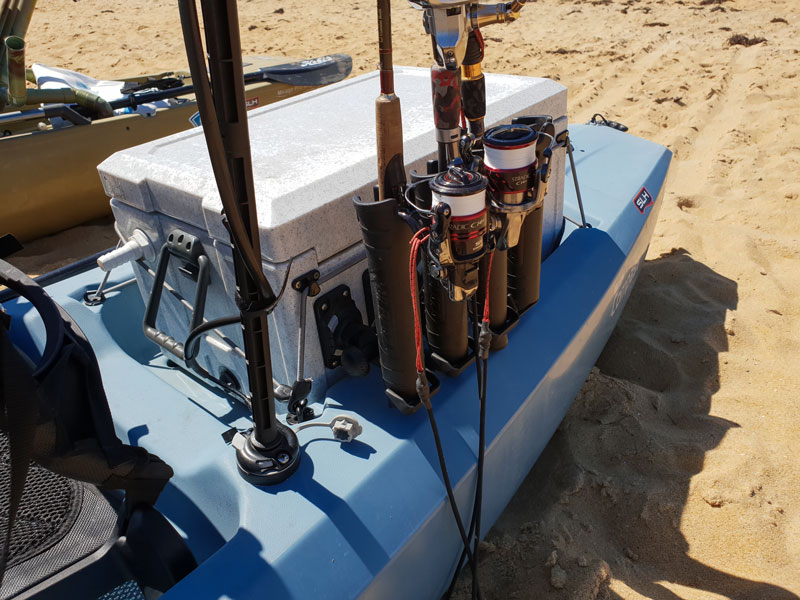 This is my chilli bin setup with Railblaza Rod holders. To be short I have a love-hate relationship with this. It makes the kayak a sail. It can be blowing less than 5 knots and I get a horrible drift going that spins me quickly. The benefit of having a pedal kayak should be to stay on a spot and fish. This makes it a pain. I'll be removing this when I come up with a new way to run the rods.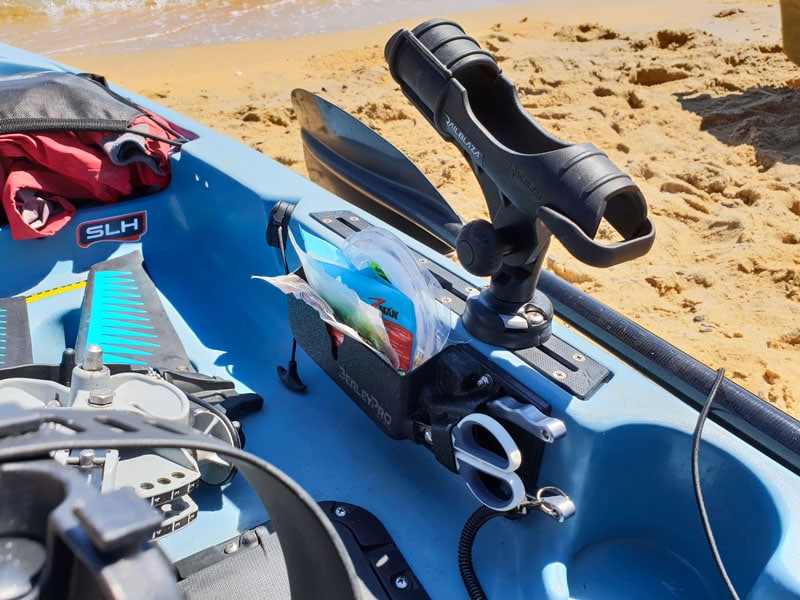 I run the Side Bro on both sides. One I tuck in plastics, leader, scissors and a pair of pliers. The other I'm using for a junk bucket for jig heads and plastics. I also have the rectangular hatch replacing the round with 2 3600 Plano boxes with tackle in there.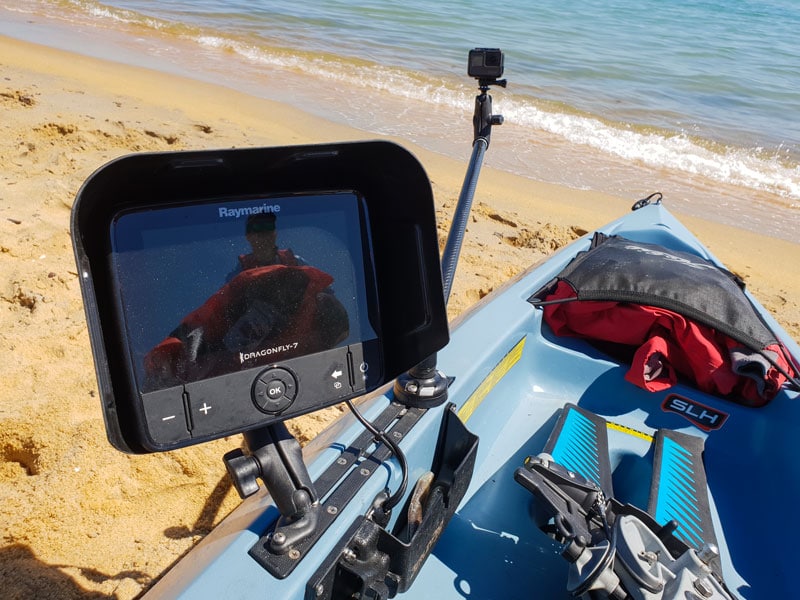 The left-hand side for me I have taken up with all my electronics. This has the Raymarine Dragonfly 7 mounted with a carbon camera boom that is a ram/railblaza love child holding the GoBro for extreme selfie action. The Right-hand side I try to keep as free as possible. That is the "business" side.
My loves
The compass is light
Speed over propeller is quicker with less effort
Rectangular hatch storage is awesome
What I Want to Improve
Not having reverse after having it is a nightmare. I like to find fish, sit above them and stop. I'll be looking at getting the 180 drive
The chilli bin setup and rods need to go. Something I am working on
Install a rod holder on the right-hand side by the seat for rigging and trolling
Install some new side handles for loading
A fixed rear handle for loading and unloading
In rough water the rudder doesn't bite enough, I'm going to make a bigger one
The steering is tight always and low to the water making winter fishing a cold fingered experience. I'd like to raise this on an H rail